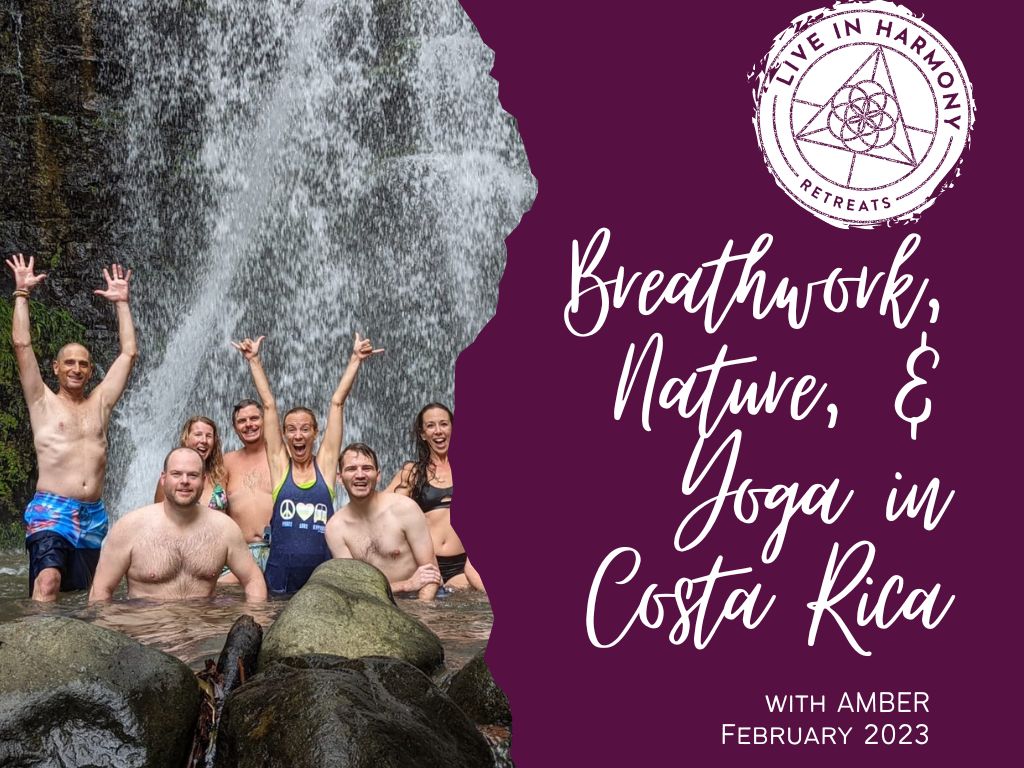 When?
February 19 – 25, 2023
Why Uvita of All Places?
The short answer is….it's off the beaten path and absolutely stunning.
Known for stunning mountain landscapes that stretch down to palm-fringed beaches, Uvita is centrally located on the southern Pacific coast of Costa Rica. It's more specifically known as Costa Ballena or the Whale's Coast, for the large number of migratory whales spotted here, as well as the whale tail shape of the coastline during low tide. This quaint little village consists of a few dirt roads, lined with farms, underpopulated beaches, mom 'n pop shops, and a scattering of hotels in the jungle-covered hills above.
Uvita is home to breathtaking waterfalls, warm uncrowded wilderness beaches, a pristine marine reserve, and an unparalleled richness of beautiful plant and animal species.
It may seem surreal that this environment is as untainted as it is. With its gentle pace of life, it will give you a good idea of what the central Pacific coast was like before the tourist boom….it's truly "off the beaten path." It likely won't stay like this forever though, conditions will one day change and the best kept secret of the Costa Ballena will be out.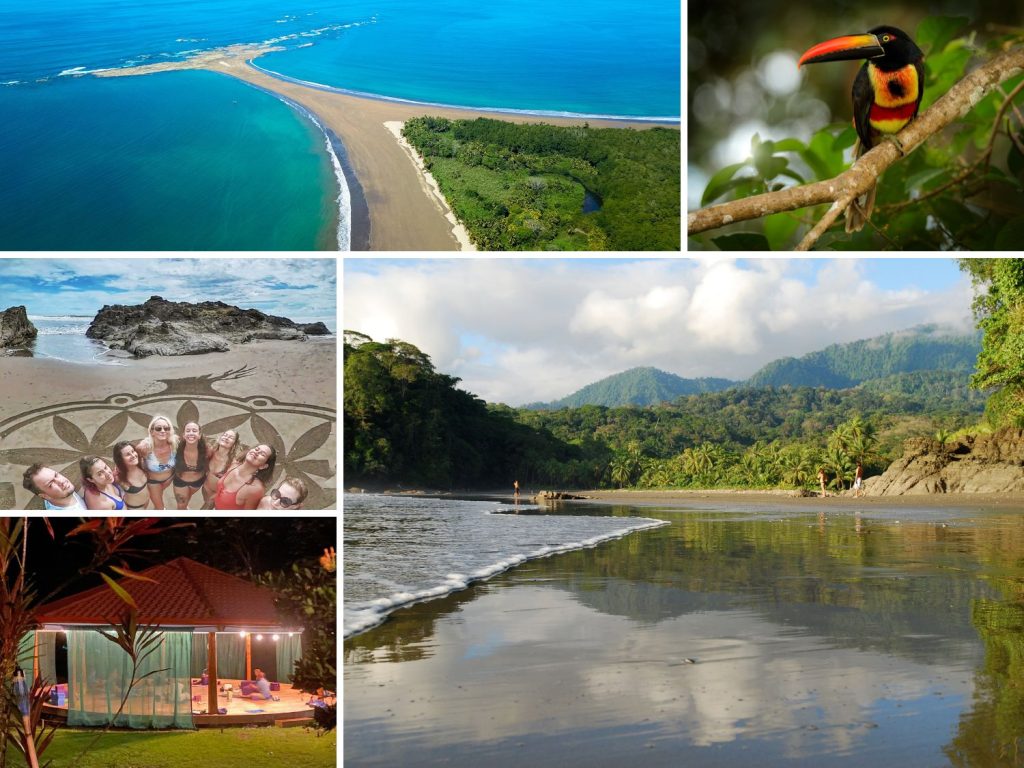 Where Are We Staying?
Manoas is a privately-owned sanctuary on a beautiful, expansive property located in the heart of the jungle. It's a hidden gem, perfect for a retreat, where you'll find yourself surrounded by tropical birds, native flowering plants, and if you're lucky, the howler monkeys will visit. The grounds are gorgeous, just a few minutes drive away from the Pacific Coast remote beaches, and sided by a crystal clear river that is perfect for swimming and exploring. The resort offers a safe alcove to truly escape in a vacation setting, surrounded by nature.
Being a little higher in elevation and somewhat secluded, Manoas makes for a perfect place to softly land at the end of a day full of adventures! Every room is cutely furnished with a private bathroom. The property has a pool with covered cabana, free wifi, beautiful villas, glamping tents, and large community deck wrapped around an ancient wise tree. The staff is present & knowledgable. We ask that all guests be over 21.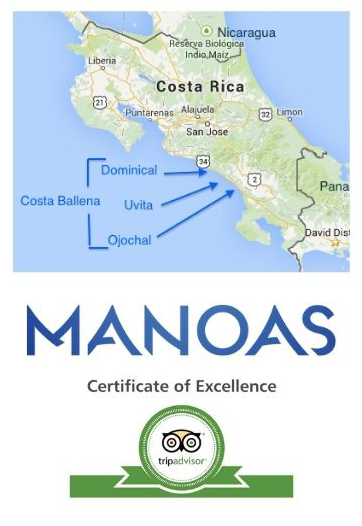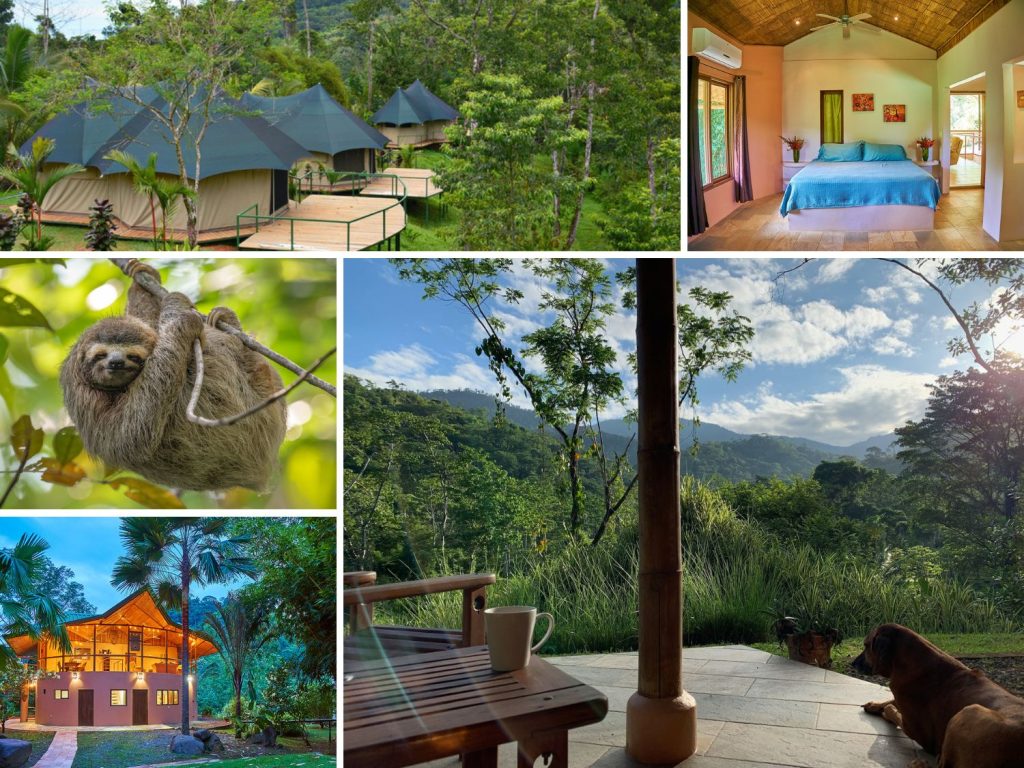 What's on the Sample Itinerary?
Day 1: Welcome to Pura Vida
• The group will arrive at Juan Santamaría International Airport (SJO) and board an air conditioned minibus to begin our road trip to Uvita. It takes about 3 hours & we make a pit stop.
• On the way to Uvita we will stop in Jaco to catch a glimpse of a stunning scenic ocean view and enjoy eats and a welcome drink at Bowie's Point. This surfers' hangout is complete with resident dogs, a pot-bellied pig named Morita, and beach front seating.
•Once we get into town, we will stop at the local grocery store to grab anything you'd like to have on hand. BM can take dollars and has many of the goodies you are used to, like kombucha. We will then jump in 4×4 SUV and head up the mountain to check-in at Manoas.
• We will gather for a welcome dinner cooked by our private chef as you take in the sounds of the jungle and wind down for the night after a long-ish travel day.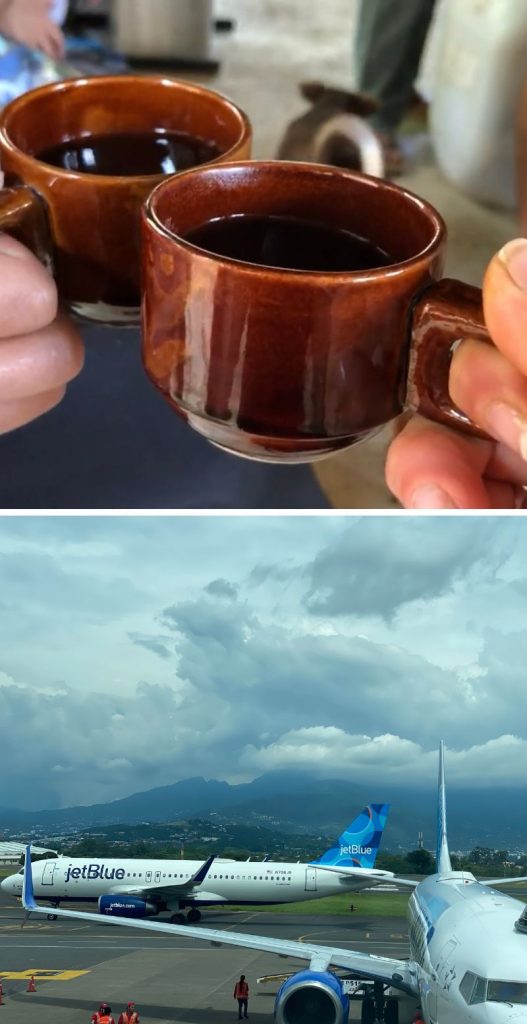 Day 2: Vitamin Sea & Sand Mandala
• Meditation, breathwork, & yoga practice in the morning….but, first, coffee.
• After breakfast we will hit one of the local beaches to meet up with sand artist, Michael Fernandez as he creates a stunning geometrical mandala with nothing but his golden rake. These incredibly detailed and sacred shapes manifest transformation and allow for the teachings of mindful present moment awareness and non-attachment….not to mention deep connection with nature. He has created over 300 sand mandalas and you can bet he is a local celebrity in Uvita.
• Lunch at Manoas and free time at the property to relax or sit by the river.
• Dinner with our chef and sleep like a sloth surrounded by the sounds or the rainforest.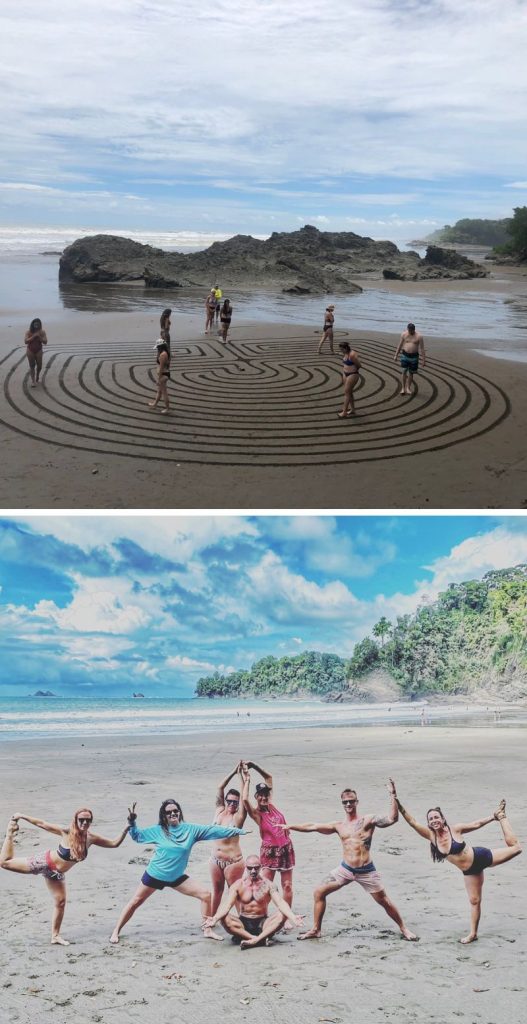 Day 3: Self Care Day
• Take it easy this morning. Choose to sleep in or join yoga practice before breakfast.
• We will have lunch on the way back to the property and then have some time to relax, or take a nap.
• Sunset yoga & wellness workshop
• Dinner at Manoas with our chef.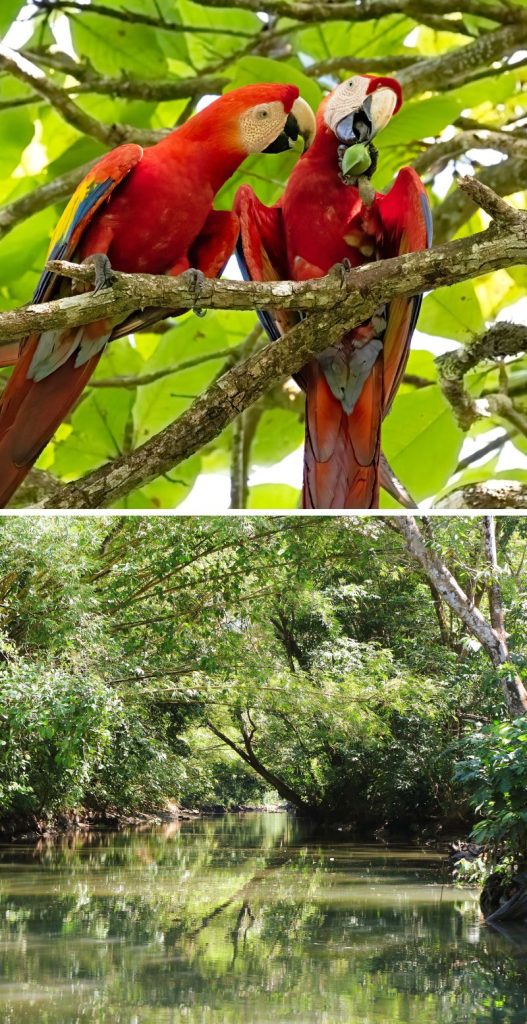 Day 4: River Hike and Recharge
•Yoga, breathwork, and breakfast, but first coffee.
‭•Together we will explore the hiking trails and river at the property where we are staying. With a little help from our friends, we will cross the river and navigate through the beautiful river's edge until we reach a crystal clear swim hole and "secret" waterfall. The pebbles on the river bank make for a natural clay beauty masks that we will learn how to apply. Who doesn't need a little natural pampering?!
•Lunch at Manoas followed by free time. By now you'll have a favorite spot to lounge, know your way through the trails, and know where to spot the wildlife.
•Dinner with Lucy, a Costa Rican chef who shares her passion for creative cooking and serves up a meal that past participants still rave about. She uses only local and seasonal items and serves up a meal cooked with love!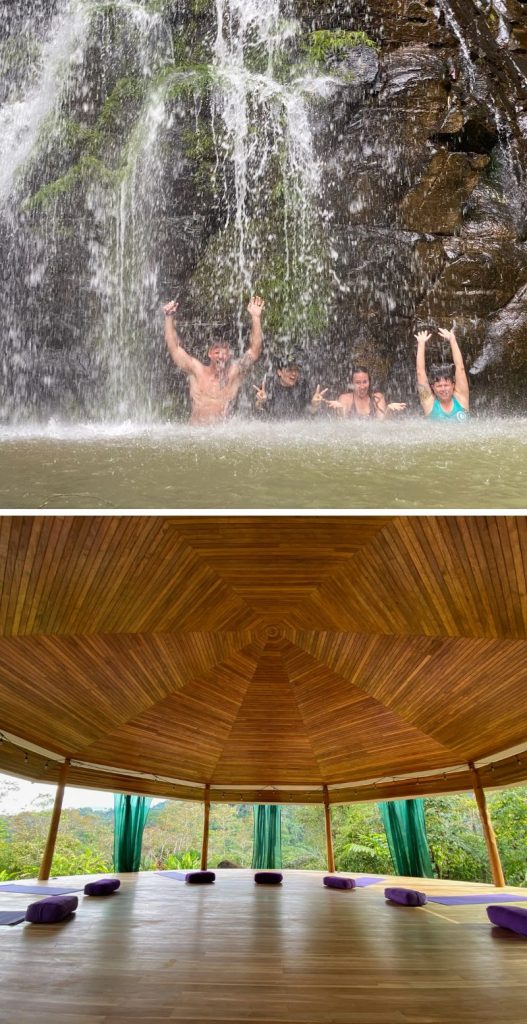 ‭
Day 5: Nauyaca Falls on Horseback or 4×4
•Morning Meditation, Breathwork, Yoga….or skip it and sleep in!
• After breakfast, we will head out to the majestic Nauyaca Waterfall. You can opt to ride a horse to get there or catch a lift in a 4×4 open bed truck. The group will be together in this caravan. You do not need to be an experienced rider and these horses are EXTREMELY well cared-for and well-versed for folks who have zero riding experience. Their tack and their tudes are well looked after. After an optional swim or cliff jump at the falls, we gather for a traditional Costa Rican lunch at the ranch.
•When we return there will be lots of free time to lounge and relax. Find your favorite spot for a photo shoot, explore the nature trails, or swim in the river.
•Dinner at Manoas with our personal chef.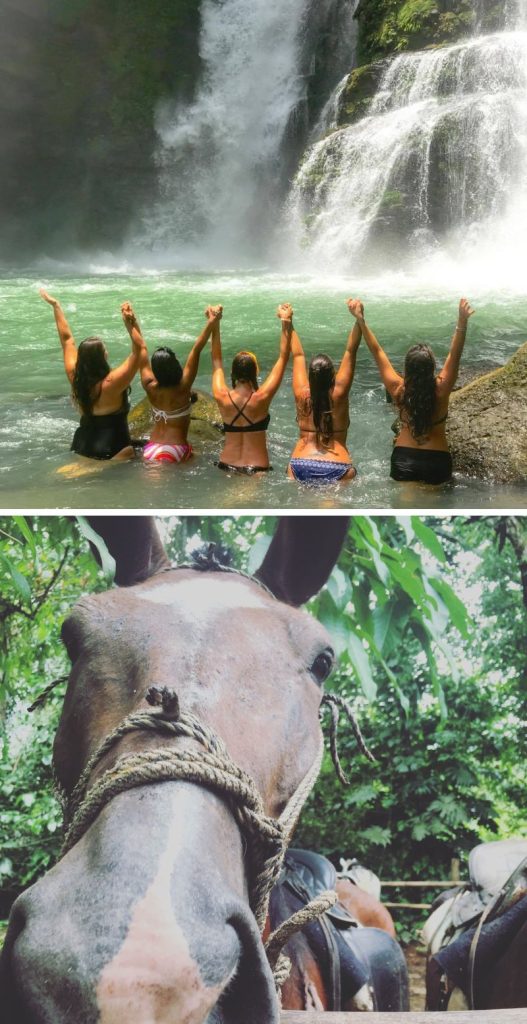 Day 6: Connect to Self Rainforest Nature Hike
• After breakfast, we will take an easy guided hike through the nature trails at Hacienda Barú. The level and clearly marked trails pass through many habitats including primary forest, secondary forest, swamp forest, wetlands, pastures and tree plantations. Here you can spot monkeys, coati, peccary, birds galore, and more. All the trails have informative signs with information about the flora and fauna, and we will take a short detour that will end at a beautiful remote beach decorated with smooth beach stones.
•Lunch at Manoas and free time in the afternoon to sit by the river and let go of anything that's not coming home with you.
• Closing circle is a tradition and then a gentle sunset yoga practice to seal our experience with sharing and ritual. Afterwards, we will have our final dinner at Manoas.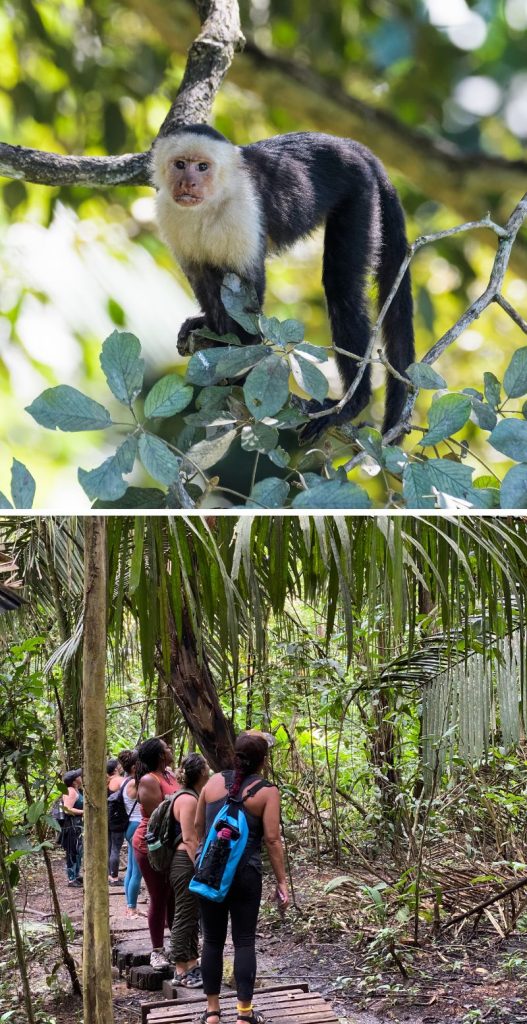 Day 7: Adios Pura Vida
• Early to-go breakfast.
• All aboard for our road trip back to the airport to catch flights home for a safe and smooth trip home.
• Time permitting, and if we didn't already see them on arrival day, we will stop at Rio Tarcoles to see the American Crocodiles on the way to the airport. The amount of crocs in this river is simply astounding. It is considered to have the highest population in the world….and quite possibly the biggest!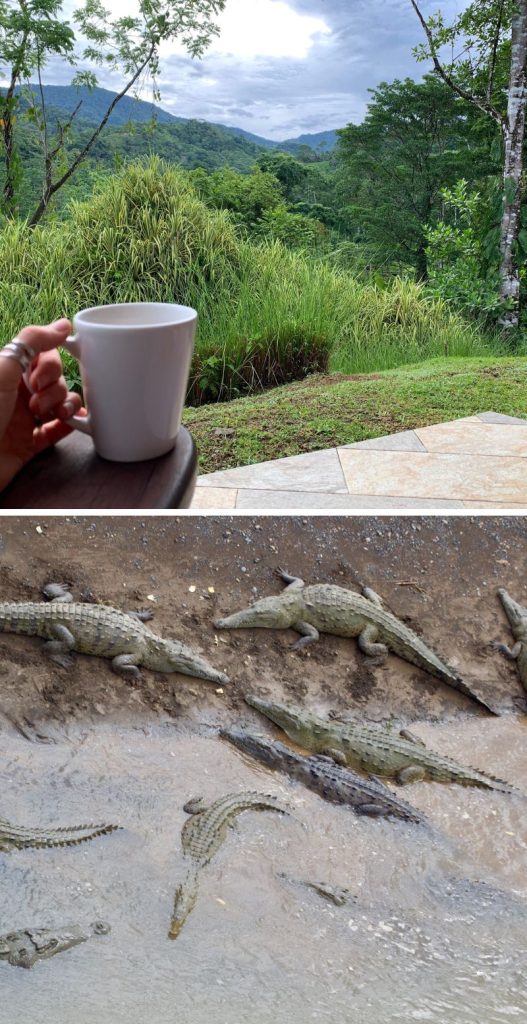 What's the trip cost?
•Trip price is $2,222. A $500 deposit is required to hold your spot. Deposit goes towards your total trip cost.
•Balance due in full by January 1st, 2023. Payment plans are available if needed.
•Deposit and/or trip payment is 100% fully refundable by January 1st, 2023 with written notice. No refunds after January 1st, 2023 for any reason. Trip Insurance is recommended, but not required. If unforeseen/uncontrollable circumstances occur such as natural disaster, pandemic related government closures, etc., trip may be rescheduled to a future date.
What's Included?
• 7 days / 6 nights comfortable rainforest accommodations in Costa Rica.
•All Meals: 6 breakfasts, 6 lunches and 6 dinners. Most special dietary needs can be accommodated. Let us know in advance.
• Ground transportation within Costa Rica will be provided with professional local driver.
• English speaking guides and translator when necessary.
• All activities outlined in itinerary.
•Some tips included such as porters, offsite restaurant tipping, and taxis / airport transfer.
•Adult welcome drink on our first day.
What's Not included?
• Airfare is not included. This trip launches at SJO airport (San Jose, Costa Rica) on February 19th, 2023 at 12pm-ish and ends the early morning of February 25th, 2023 at SJO. Please send us your desired flight itinerary prior to finalizing your booking.
• Some of the tips are paid by you directly to our team. It is customary to tip the excursion guides, our chef, and the Manoas staff who will be working to make sure we have everything we need. Suggested amounts will be provided in the welcome packet.
• Trip Insurance is not included. Although not required, it is recommended that each participant purchases a travel policy in the case of an emergency or unforeseen circumstances. Without insurance, any cancellations after January 1st, 2023 could cause participants to forfeit their payment.
• Our trip launches and ends at SJO. You may wish to arrive early and stay after the retreat at your own cost.
• Any costs such as transportation/meals/activities/etc during your free time or if apart from the group is not included.
• Extras such as alcoholic beverages, massage, acupuncture, medical care, local or global calamities or other unexpected happenings such as pandemic related interruptions, airline cancellations, etc.