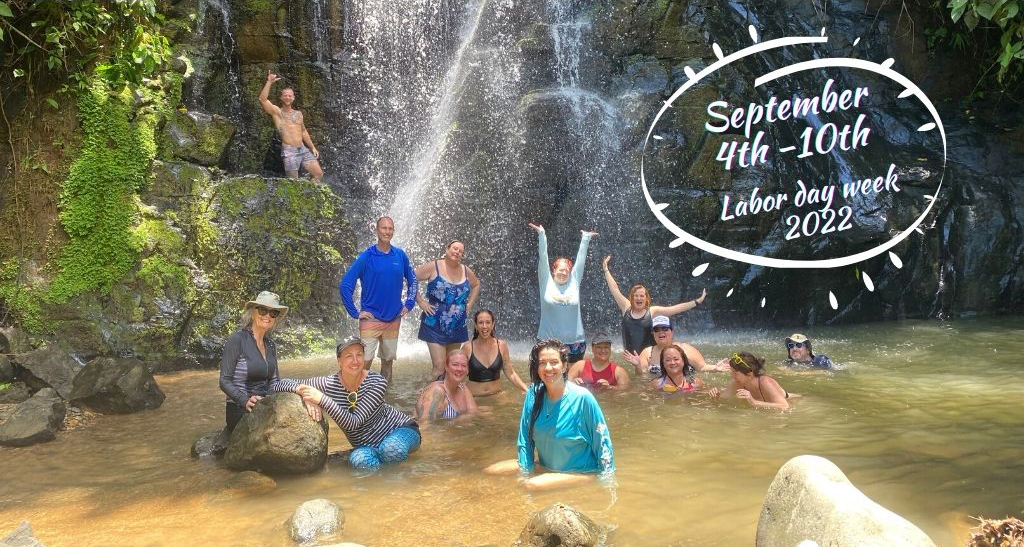 "Experience a Trip Designed to Clear Your Mind, Reconnect Your Heart, and Calm You the EFF DOWN""

Why Rendezvous in Uvita, Costa Rica?
Are you ready to get the hell out of dodge?
Known for stunning mountain landscapes that stretch down to palm-fringed beaches, Uvita is centrally located on the southern Pacific coast of Costa Rica. It's more specifically known as Costa Ballena or the Whale's Coast, for the large number of migratory whales spotted here, as well as the whale tail shape of the coastline during low tide. This quaint little village consists of a few dirt roads, lined with farms, guesthouses and tiny shops, and a scattering of hotels in the jungle-covered hills above.
With its gentle pace of life, it will give you a good idea of what the central Pacific coast was like before the tourist boom….it's truly "off the beaten path." Uvita is home to breathtaking waterfalls, warm uncrowded wilderness beaches, a pristine marine reserve, and an unparalleled richness of beautiful plant and animal species.
It may seem surreal that this environment is as untainted as it is. It likely won't stay like this forever though, conditions will one day change and the best kept secret of the Costa Ballena will be out.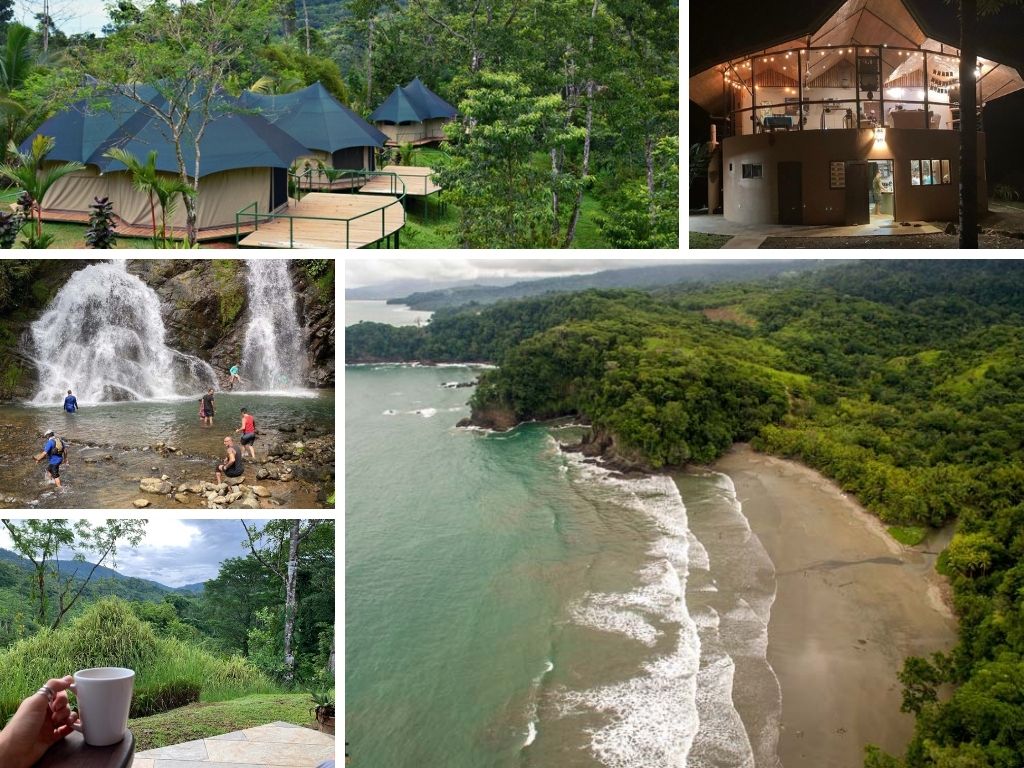 Where Are We Staying?
Manoas is a privately-owned sanctuary on a beautiful, expansive property located in the heart of the jungle. It's a hidden gem, perfect for a retreat, where you'll find yourself surrounded by tropical birds, native flowering plants, and if you're lucky, the howler monkeys will visit. The grounds are gorgeous, just a few minutes drive away from the Pacific Coast remote beaches, and sided by a crystal clear river that is perfect for swimming and exploring. The resort offers a safe alcove to truly escape in a vacation setting, surrounded by nature.
Being a little higher in elevation and somewhat secluded, Manoas makes for a perfect place to softly land at the end of a day full of adventures! Every room is cutely furnished with a private bathroom. The property has a pool with covered cabana, free wifi, beautiful villas, glamping tents, and large community deck wrapped around an ancient wise tree. The staff is present & knowledgable. We ask that all guests be over 21.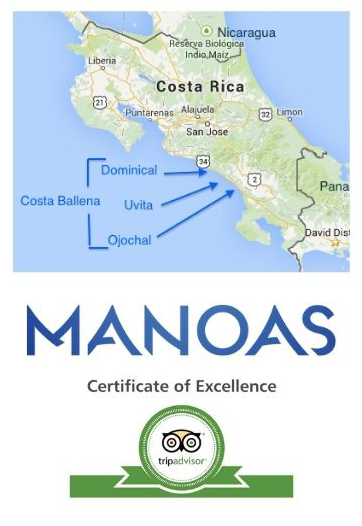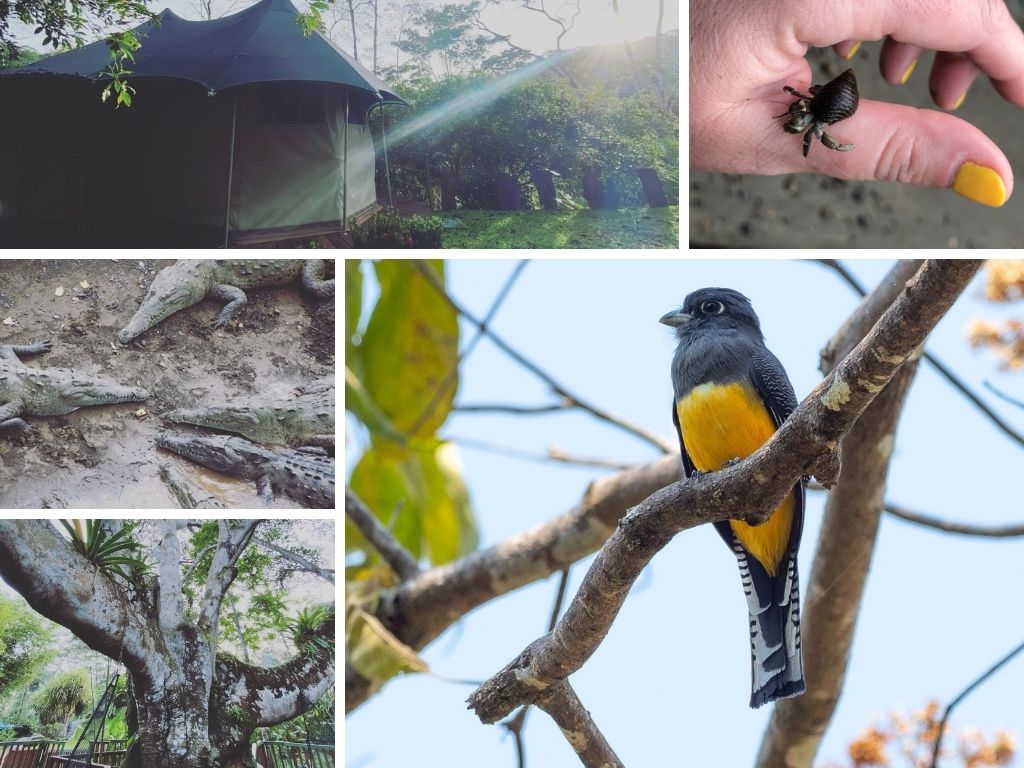 A Message From Katie
HEY YA'LL,
If you are reading this, chances are you are remotely considering following me into this relaxation adventure of a lifetime or perhaps your friend, partner, cousin is trying to convince you to follow them, to follow me and treat yourself to this trip.
I am excited to take you on this retreat. On my first trip to Manoas, I immediately knew I wanted to come back and bring everyone I know, along. This will be my third tour of duty on the Mission of Pura Vida and Chill.
I am a wife, mom, Army kid, big-boned, yogi, bougie amenity seeker, unafraid of nature-lover, tap dancer and self proclaimed cheese aficionado.
Let's get out there. — Katie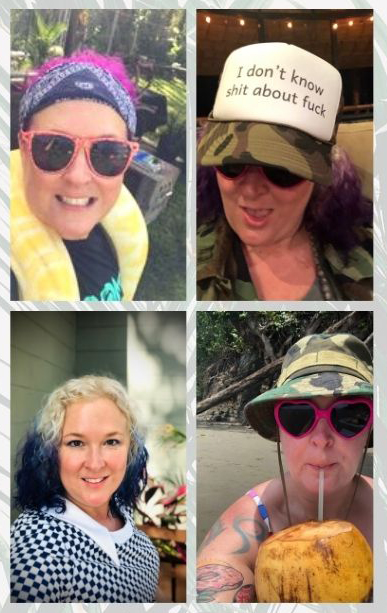 Welcome to Pura Vida
Day 1
• The group will arrive at Juan Santamaría International Airport (SJO) and begin our road trip to Uvita. This trek takes about 3 hours & we make a pit stop.
• On the way to Uvita we will stop in Jaco to catch a glimpse of a stunning scenic ocean view and enjoy eats and a welcome drink at Bowie's Point. This surfers' hangout is complete with resident dogs, a pot belly pig named Morita, and beach front seating.
•Once we get into town, we will stop at the local grocery store called BM to grab anything you'd like to have on hand. BM can take dollars and has most of the amenities you are used to, like kombucha. 🙂 We will jump in 4×4 SUV and head up the mountain to check-in at Manoas.
• Enjoy a traditional Costa Rican welcome dinner cooked by our private chef as you take in the sounds of the jungle and wind down for the night.
4×4 or Horseback to Nauyaca Waterfall
Day 2
• After breakfast, we will head out to the majestic Nauyaca Waterfall. You can opt to ride a horse to get there or catch a lift in a 4×4 open bed truck. The group will be together in this caravan. You do not need to be an experienced rider and these horses are EXTREMELY well cared-for and well-versed for folks who have zero riding experience. Their tack and their tudes are well looked after. After an optional swim or cliff jump at the falls, we gather for a traditional Costa Rican lunch at the ranch.
• Post excursion, we head back to relax, have free time to enjoy the property, or schedule yourself a massage* (*additional cost).
• After dinner, we offer a jungle night hike, right at Manoas. The guide will help us spot nocturnal creatures all around us (add'l cost $45pp).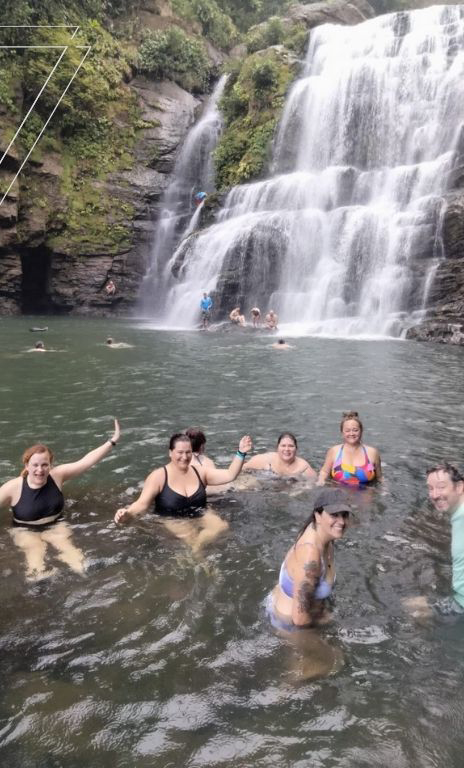 Beach Please!
Day 3
• All levels yoga practice in the morning.
• After breakfast, we will head out to the beach. When we arrive at Playa Ventanas, you can see right away why locals love it. It's in a secluded little bay, surrounded by lush rainforest and lined with palm trees. There are two caves on the north end of the beach, formed from the surrounding mountain. If we are lucky to be there during low tide, you can actually walk through the first one!
• Lunch at Manoas and free time to enjoy your down time.
• Casual dinner at Mosaic wine bar in Uvita, a favorite local restaurant. With over 40 wines, craft cocktails, charcuterie boards, fresh sushi and Japanese fusion cuisine, you are sure to leave with a full heart and a full belly. They support small, local family businesses, serving local coffee, fresh bread, CHEESES, and other artisanal, organic products from the Uvita area.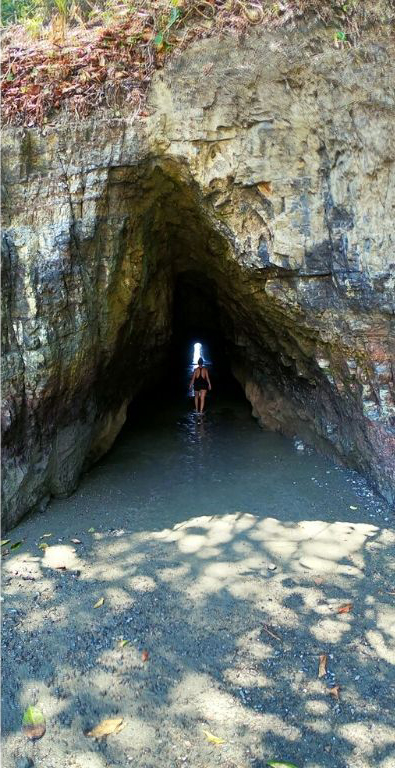 River Hike and Recharge
Day 4
•Take it easy this morning or sleep in before breakfast. No outting is required if you prefer to just hang.
‭•Together we will explore the hiking trails and river of the property where we are staying. You will be shown a crystal clear swim hole and "secret" waterfall. The pebbles on the river bank make for a natural clay beauty masks that we will learn how to apply. Who doesn't need a little natural pampering. This is a bouldering hike which means we will be traversing rocks, climbing and there is no rush.
•Lunch at Manoas
•Free time. By now you'll have a favorite spot to lounge, know your way through the trails, and know where to spot the wildlife.
•Dinner at Manoas.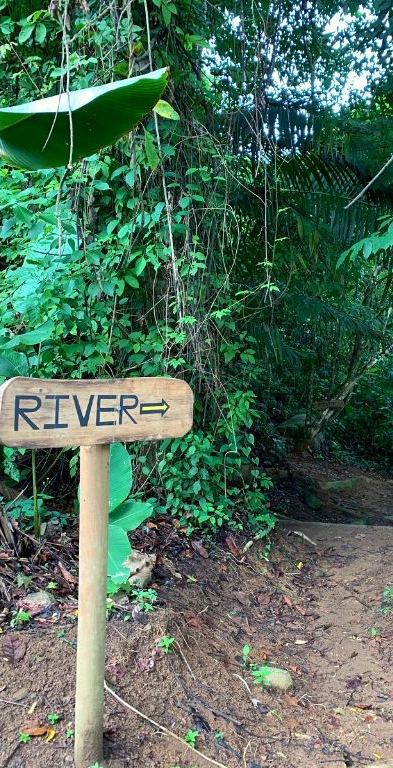 Chillax to the Max
Day 5
•Take yoga class or sleep in, then meet up for breakfast.
‭•Join the intention setting workshop where we will create a super unique keepsake that you will be crafting.
•Pool party with chill beats and a cabana lunch will include a variety of appetizer plates, cheese boards, fruit display, holy guacamole, and the best chips and salsa you might ever have in your life.
•Free time. Massages are going to be available to book as an upgrade. Explore. Sleep in. Zero Effs. No where to go.
• Split the taxi fare with your pals on an optional ride to Dominical, Uvitas neighboring beach town with shops, restaurants, and a super cool vibe.
•Dinner at Manoas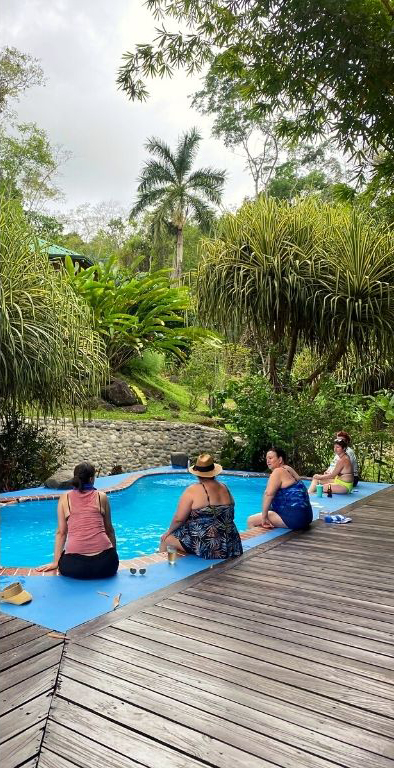 Connect to Nature – Connect to Self
Day 6
• After breakfast, we will take an easy guided hike through the nature trails at Hacienda Barú. The level and clearly marked trails pass through many habitats including primary forest, secondary forest, swamp forest, wetlands, pastures and tree plantations. Here you can spot monkeys coati, peccary, birds galore, and more. All the trails have informative signs with information about the flora and fauna, and we will take a short detour that will end at a beautiful underpopulated beach. Take time for meditation, journaling, or bring a book you've been wanting to read.
•Lunch at Manoas and free time in the afternoon to sit by the river and let go of anything that's not pura vida.
• The group will meet for Closing Ceremony (this is a traditional Katie Donzanti farewell) and a wood-fired pizza party.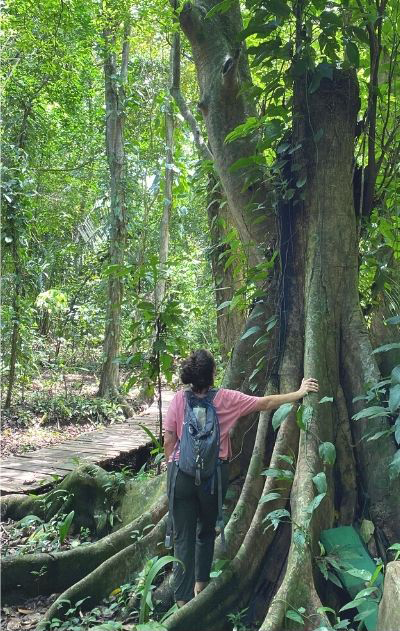 Adios Pura Vida
Day 7
• Early to-go breakfast.
• All aboard for our road trip back to the airport to catch flights home for a safe and smooth trip home.
• Time permitting, and if we didn't already see them on arrival day, we will stop at Rio Tarcoles to see the American Crocodiles on the way to the airport. The amount of crocs in this river is simply astounding. It is considered to have the highest population in the world….and quite possibly the biggest!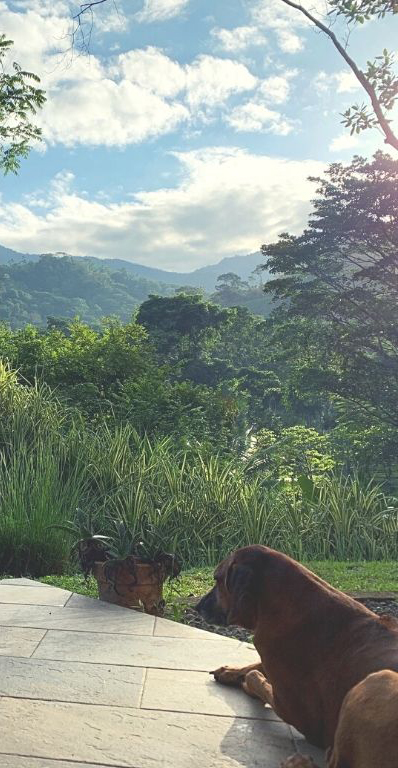 Cost
•Trip price is $2,068 PP. A $500 deposit is required to hold your spot. Deposit goes towards your total trip cost.
•Balance due in full by August 14th, 2022. Payment plans are available if needed.
•Deposit and/or trip payment is 100% fully refundable by August 14th, 2022 with written notice. No refunds after August 14th, 2022 for any reason. Trip Insurance is recommended, but not required. If unforeseen/uncontrollable circumstances occur such as natural disaster, pandemic related government closures, etc., trip may be rescheduled to a future date.
What's Included?
• 7 days / 6 nights comfortable rainforest accommodations in Costa Rica.
• All Meals: 6 breakfasts, 6 lunches and 6 dinners. Most special dietary needs can be accommodated. Let us know in advance.
• Ground transportation within Costa Rica will be provided with professional local driver.
• English speaking guides and translator when necessary.
• All activities outlined in itinerary.
•Some tips included such as porters, restaurant outings, and taxis.
•Welcome gift, and a bar welcome drink on our first day.
What's Not included?
• Airfare is not included. This trip launches at SJO airport (San Jose, Costa Rica) on September 4th, 2022 at 12pm-ish and ends the early morning of September 10th, 2022 at SJO. Please send Katie your desired flight itinerary prior to finalizing your booking.
• It is customary to tip the excursion guides, our chef, and the Manoas staff who will be working to make sure we have everything we need. Suggested amounts will be provided in the welcome packet.
• Insurance is not included. Although not required, it is recommended that each participant purchases a travel policy in the case of an emergency or unforeseen circumstances. Without insurance, any cancellations after August 1st, 2022 could cause participants to forfeit their payment.
• Our trip launches and ends at SJO. You may wish to arrive early and stay after the retreat at your own cost.
• Any costs such as transportation/meals/activities/etc during your free time or if apart from the group is not included.
• Extras: Alcoholic beverages, massage, acupuncture, medical care, world calamity, airline cancellations, etc.